weekend retreats
retiros fin de semana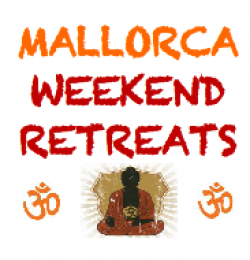 MALLORCA RETIROS FIN DE SEMANA, son retiros abiertos de dos a cinco días, que envuelven meditación, conciencia, terapia y crecimiento personal, acompañado de una alimentación sana en un ambiente hermoso y relajado. Cada fin de semana está dedicado a un determinado asunto o tema principal, que podría ser, trabajo primal, la co-dependencia, la respiración, el tantra, el trabajo corporal, el bienestar, el detox, trabajos energeticos o el yoga, sólo para nombrar algunos. La base y la esencia siempre será la meditación; las diferentes técnicas activas, pasivas, guiadas y silenciosas permiten que todo aquello que se experimenta en los talleres a ser integrado y procesado.
Los talleres durante estos días serán facilitados por terapeutas y facilitadores nacionales e internacionales, con amplia experiencia en la tematica de los retiros.
Invitamos a los participantes a reservar y disfrutar toda la duración de los retiros, donde se incluyen el alojamiento y la comida vegetariana, pero también existe la posibilidad de unirse a nosotros por días sueltos o a los eventos de la noche para aquellos que sólo pueden «escaparse» durante un tiempo más corto.
MALLORCA WEEKEND RETREATS are two- to five days open retreats, involving meditation, awareness, therapy and personal growth, accompanied by healthy food in a beautiful and relaxing environment. Each weekend is dedicated to a certain subject or main theme, which could be primal, codependency, tantra, bodywork, wellness, detox, energy work or yoga, just to name a few. The base and essence will always be meditation; the different active, passive, guided and silent techniques allow all that which is experienced in the workshops to be integrated and processed.
The workshops during these days will be facilitated by national and international therapist and facilitators, experienced in the retreat topic.
Even though Participants are encouraged to stay for the whole duration of the retreat, accommodation and vegetarian food are included, there is also the opportunity to join us for single days or evenings for those who can only 'escape' for a shorter time.